Giving Circles are a group of people — friends, family, co-workers, or beyond — who pool charitable donations and decide together where to allocate their money. Giving Circles develop a mission or set of values and engage in shared learning about issues and organizations that align with those interests, all while building community and having fun. The model is infinitely customizable — from just a few people to over a hundred, from a few dollars to hundreds of thousands, meeting regularly or once a year, giving to every issue, cause, project, individual, or organization under the sun.
Sometimes called Collective Giving Groups, Giving Chapters, or Giving Projects — Giving Circles are a growing model in philanthropy. Research shows that Giving Circle members give more money, and give more strategically and proactively to a wider array of organizations. Members tend to volunteer more, seek out more diverse viewpoints, and engage more in civic activity. At a time in our society marked by isolation, distrust, polarization, and lowered levels of giving and volunteering, Giving Circles are a powerful vehicle for proactive, intentional, social change.
Benefits of a Giving Circle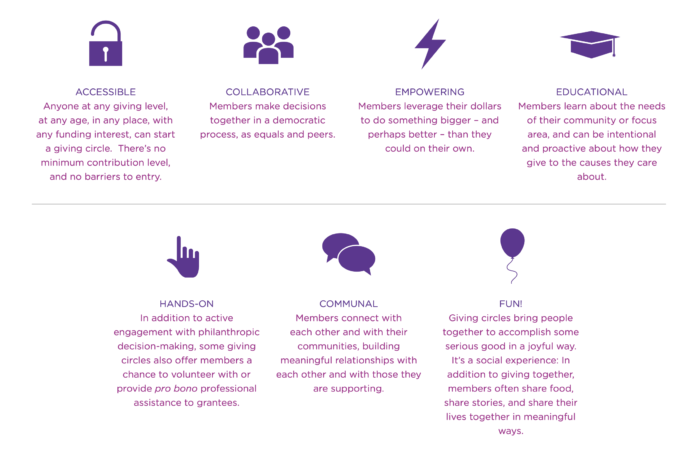 Source: Amplifier's Giving Circle Essentials — a detailed playbook about how to start a Giving Circle.
How To Start or Join a Giving Circle
If you're looking to start a new Giving Circle, the following steps describe key decision points. Read more tips about how to start a Giving Circle here and stay tuned for programs and resources to help you launch your circle in 2020.
People: Decide how many people and who you'd like to have join the Giving Circle. When thinking about who should join, look beyond your close circle — who else should have a seat at the table (across age, race/ethnicity, socio-economic status, religious affiliation, etc.)?
Funding amount: Decide how much each person is willing to give — it could be under a hundred or several thousand dollars. Some circles vary the requested funding amount per person, some set a specific amount for all participants to give equally, and others give based on a percentage of income or wealth.
Vision and values: Decide what connects and inspires everyone in the group by creating vision, mission, and values statements to help guide what your circle funds.
Grant process and financial logistics: Decide your vetting process, and where the collected money will be housed. Some circles are supported by a local community foundation, some form their own 501(c)3, others use a platform like Growfund, JustFund, or Grapevine to facilitate their giving.
Meetings: Decide how frequently and where you'll meet. Many circles put food and fun at the center of their meetings, and circles often go beyond pooling funds to volunteering or sharing the story of the issue or organization.
If you're looking to join an existing Giving Circle, hundreds of groups are connected together in networks that offer support, informational resources, and connection. These networks are often organized by an affinity such as race/ethnicity, gender, religion, or cause.
Giving Circle & Collective Giving Networks:
The Giving Circle Movement
Over the past two decades, Giving Circles have exploded in the United States going from just a handful of circles in the early 2000s to over 1600 circles in a study from 2017 — reaching more than 150,000 people, and collectively raising $1.29 billion for community impact over the past twenty years.
A collection of Giving Circle networks and individual circles have joined forces to launch Philanthropy Together, a new national initiative in 2020 to connect and catalyze the American Giving Circle movement, in service of democratizing and diversifying philanthropy. Launching in summer 2020, Philanthropy Together will broadly promote the model of collective giving, support the creation of hundreds more Giving Circles, and help strengthen the thousands of Giving Circles around the country. By supporting collective givers — especially those traditionally underrepresented in philanthropy — this initiative hopes to mobilize new resources that can be leveraged for communities, issues, and to reduce disparities.
Join the Movement
Subscribe to get news & updates from the giving circle field
Isis Krause (she/her) has worked to shift the landscape of philanthropy through the power of collective giving for nearly a decade. She led the original co-design process that birthed Philanthropy Together in 2018 — an extension of her work with Amplifier, a network and platform for hundreds of Jewish-values inspired giving circles, and the Natan Fund in 2013. As Chief Strategy Officer she pushes to expand the vision and impact of PhT's work, build partnerships in the field, and create/facilitate programming.